Acrylic Thread
Pakshal Threads is one of the oldest manufacturer of Acrylic thread engaged in the industry since 2006.We aim to manufacture the best quality threads for our customers at the best price.
With features including anti-shrinkage quality and ultra soft texture, Acrylic threads are widely used by customers in embroidery of dress materials, Sarees and curtains.
The product is available to customers with a colour range of 50+ shades.
We keep a huge stock of Acrylic Thread to satisfy any small and large quantity orders from our valuable customers at market leading prices all over the globe.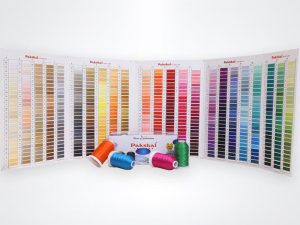 Acrylic Thread Specifications
Usage/Application: Embroidery of Dress Materials, Sarees, Curtains, Etc.
Size/Length: upto 2000 Meter per Cone
Pakshal Thread is one of the prime Thread Manufacturers, in India which manufactures high-quality Acrylic Threads to ensure you get the best in the market.
Acrylic Threads are made to mimic natural threads like cotton and wool. Petroleum products are melted and materials are extruded into long, thin fibers to produce acrylic yarn. They are then treated to make various kinds of yarn that are versatile and durable and are most widely used as a substitute for natural fibers. One of the most significant benefits of acrylic yarns is their fair pricing. Due to mass production, they are priced at affordable rates, unlike natural fibers. They have a long shelf life that enables you to bulk purchase and store in larger quantities. Many natural fibers are prone to attract moths and other vermin. You are relieved from this threat with acrylic threads.
They come with the advantage of durability. Most natural fibers are prone to permanent damage if machine washed or dry cleaned but these yarns are washing machine or dry clean safe and won't lose color. Because they are produced from petroleum products, they will last for generations if taken good care of. It has a soft touch and will work fine even if you are a beginner in embroidery work.
Pakshal Acrylic Threads are known for their smooth finish. We use the best quality raw materials and the latest manufacturing technology to ensure you get the best product. Our threads are best suitable for embroidery of dress materials, sarees, curtains, etc.
We are ISO 9001:2015 Certified and Leading Suppliers and Exporters of Acrylic Thread in various countries such as UAE, Oman, Qatar, Saudi Arabia, Bangladesh, Egypt, South Africa, Turkey, Spain, Bahrain, Yemen, Vietnam, Australia, Canada, Malaysia, UK, Germany, Sri Lanka, Nigeria, China, Thailand, USA, etc.