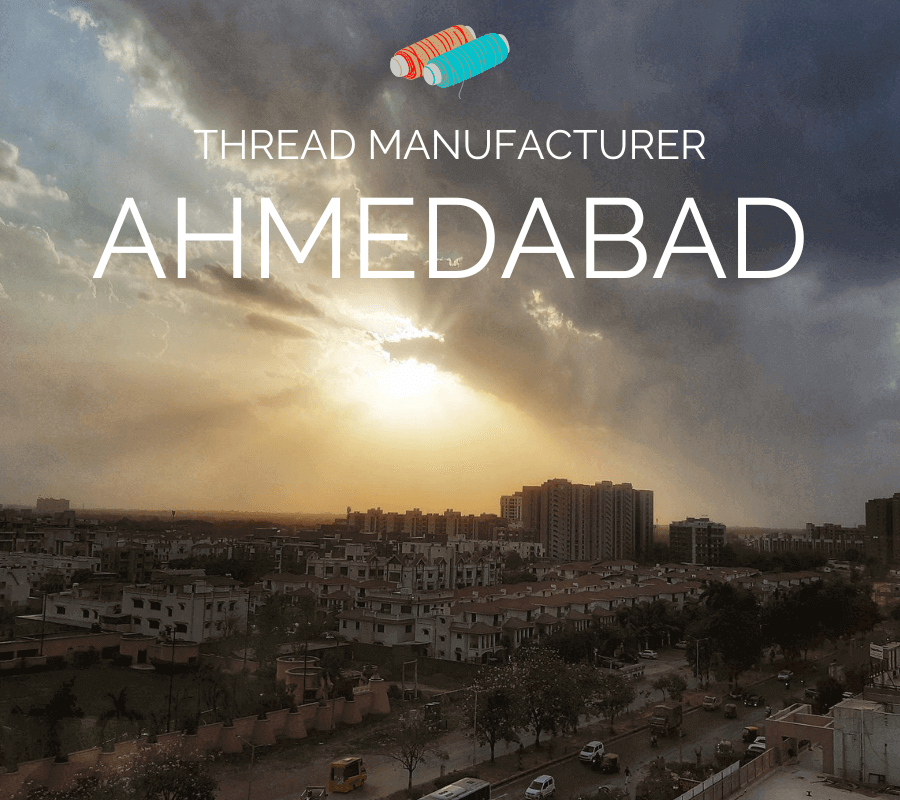 Thread Manufacturer, Supplier & Wholesaler 

in Ahmedabad
Ahmedabad is a city synonymous with the textile industry. Apart from being one of the largest cities in India, the city has been an international hub for
world-famous cotton textiles. Being located on the shores of the mighty Indian Ocean, Ahmedabad is also a reputed export hub that delivers Ahmedabad textile across the world. One of the main contributors to the success of Ahmedabad's international reputation in the textile industry is the thread manufacturers of Ahmedabad.
Sharing the same colossal vision, Pakshal Threads was founded in 2006 to offer top-quality sewing threads, embroidery threads, and many other textiles products to countless local and regional suppliers, wholesalers, and thread distributors in Ahmedabad.
We are one of the best thread manufacturers in Ahmedabad. Numerous textile manufacturers, fashion brands, designers, clothing stores, distributors, retail stores, dealers, and local thread shops in Ahmedabad trust our high-quality threads.
What do we offer to Ahmedabad Dealers and Distributors?
Being one of the top thread manufacturers in Ahmedabad, we offer countless varieties of top-quality threads.
Trilobal Polyester Embroidery Threads
Reco Silk Embroidery Threads
Core Spun Polyester Embroidery Thread
Spun Polyester Embroidery Threads
Acrylic Threads
Kesar Poly 2 Ply Spun Polyester Threads
Kallash Poly 3 Ply Spun Polyester Sewing Threads and Many More.
Don't let price be a deal-breaker for you; our latest thread prices reflect our superior quality. Be assured of getting great deals on your retail and wholesale purchases for threads and related products. Countless thread wholesalers in Ahmedabad trust us with their bulk and wholesale orders and are delivered the same quality they expect from us. We are a reputed thread supplier and thread dealer in Ahmedabad who offers spectacular wholesale purchase rates for local thread suppliers, thread wholesalers, and thread distributors in Ahmedabad.
We are also an ISO 9001:2015 certified thread manufacturer having our supply network across India in Ahmedabad, Kolkata, Mumbai, Bangalore, Navi Mumbai, Chennai, Delhi, Hyderabad, Thane, Pune, Surat, Tiruppur, Ludhiana, Indore, Jaipur, etc.
What sets Pakshal Thread apart?
Our threads undergo strict and intricate quality checks per India's industry standards. All our products are Oeko-Tex standard 100 certified and safe. Our four decades of experience in Thread manufacturing and the textile industry enables us to deliver international-grade thread quality. Pakshal's accomplished and experienced textile expert team gives us a mammoth presence in the textile industry in India and internationally. Our brand is popular across all states of India and numerous countries overseas.
Let your search for top-quality sewing threads and embroidery threads in Ahmedabad at retail and wholesale prices ends at Pakshal. Contact us for retail and wholesale purchase inquiries and be assured of unforeseen thread quality that hundreds of brands in Ahmedabad count on.
Prime locations we supply Embroidery and Sewing threads near by Ahmedabad, Gujarat
Anjar, Ankleshwar, Bardoli, Becharaji, Bharuch, Gandhinagar, Jamnagar, Jetpur, Rajkot, Surat, Udhana, Vadodara, Gandhinagar, Bhavnagar, Navsari, Bhuj, Valsad, Anand, Junagadh, etc
If you are a Textile Manufacturer, Supplier, Wholesaler, Stockist or Importer in Ahmedabad, Gujarat you can put forward your inquiries and requirements for superior quality polyester, embroidery, and sewing threads by contacting us at: