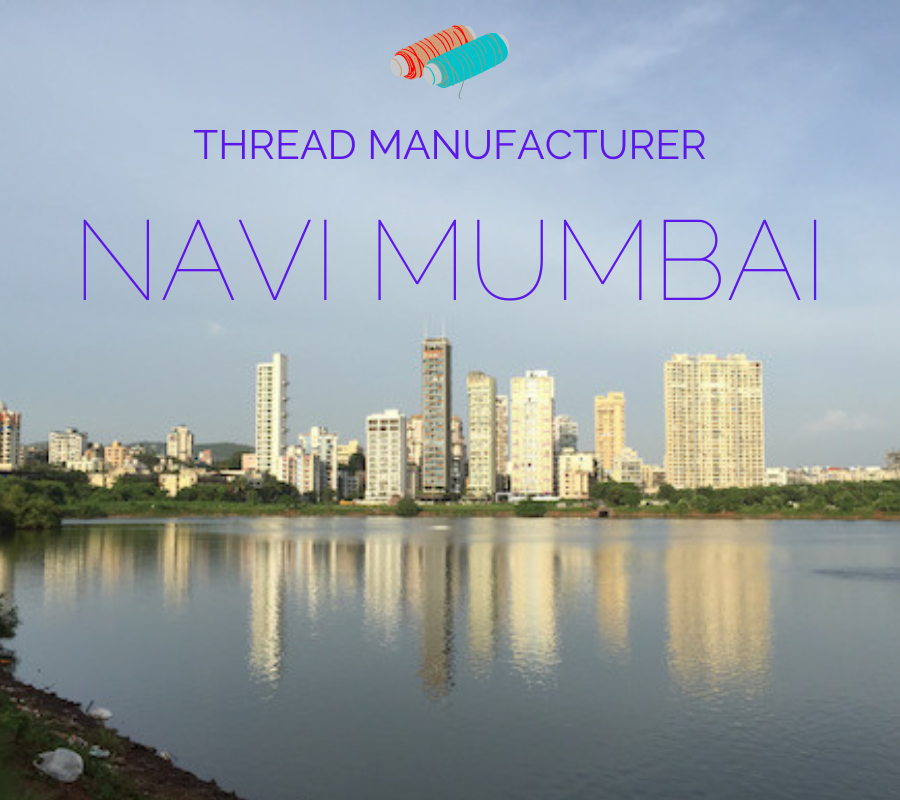 Thread Manufacturer, Supplier & Wholesaler 

in Navi Mumbai
Navi Mumbai has always been a popular hub for the textile industry in India. Numerous textile businesses, fashion brands, designers, clothing stores, and dealers require high-quality threads for various personal and commercial purposes. Sensing this need, we took a step forward to offer superior quality threads to people in Navi Mumbai.
Founded in 2006, Pakshal Thread has emerged as the top thread manufacturers in Navi Mumbai. It functions on the vision of providing superior quality sewing threads, embroidery threads and a long list of varieties to thread suppliers, thread wholesalers, and thread distributors in Navi Mumbai, Maharashtra.
What do we offer to Navi Mumbai Dealers and Distributors?
We are the proud thread manufacturer in Navi Mumbai that offer various kinds of top-quality threads such as:
Trilobal Polyester Embroidery Threads
Reco Silk Embroidery Threads
Core Spun Polyester Embroidery Thread
Spun Polyester Embroidery Threads
Acrylic Threads
Kesar Poly 2 Ply Spun Polyester Threads
Kallash Poly 3 Ply Spun Polyester Sewing Threads
Our latest prices reflect our customer-centric pricing policies. Many thread wholesalers in Navi Mumbai trust us with their bulk orders and be assured of the thread quality that we are known for. We are a proud thread supplier and thread dealer in Navi Mumbai that offer wholesale rates for thread suppliers, thread wholesalers and thread distributors in Navi Mumbai.
We are also an ISO 9001:2015 certified thread manufacturer having our supply network across India in Navi Mumbai, Ahmedabad, Bangalore, Mumbai, Chennai, Delhi, Hyderabad, Kolkata, Thane, Pune, Surat, Tirupur, Ludhiana, Indore, Jaipur, etc.
What sets Pakshal Thread apart?
If you are wondering what sets us apart from our competition in Navi Mumbai, you'd be surprised to see the wide range of benefits that thread suppliers, distributors and wholesalers in Navi Mumbai receive from us. Our thread quality speaks for itself. All our products are Oeko-Tex standard 100 certified.
All of our threads go through strict quality checks based on industry standards in India. Our 35 years of experience in Thread manufacturing allows us to exhibit industry-grade thread quality that people in Navi Mumbai absolutely love.
Our team of highly trained and experienced textile experts gives us a rock-solid presence in the industry, and our brand is widely known across India and overseas.
If you are looking to buy sewing threads and embroidery threads in Navi Mumbai at retail and wholesale prices, you can contact us and be assured of thread quality you have never seen before.
Prime locations we supply Embroidery and Sewing threads near by Navi Mumbai, Maharashtra
Vashi, Sanpada, Turbhe, Koparkhairane, Ghansoli, Rabale, Airoli, Digha, MIDC, Nerul, Belapur, Kharghar, Kamothe, Kalamboli, Panvel, Ulwe, Uran, JNPT, Dronagiri, Taloja,  etc.
If you are a Textile Manufacturer, Supplier, Wholesaler, Stockist or Importer in Navi Mumbai, you can put forward your inquiries and requirements for superior quality polyester, embroidery, and sewing threads by contacting us at: