Reco Silk Embroidery Thread
Pakshal Threads is one of the oldest manufacturer of reco silk embroidery thread engaged in the industry since 2006.
Recosilk embroidery thread is a truly innovative fabric with properties that strongly suit natural fibers such as viscose. Recosilk embroidery threads are specially designed bearing in mind consumer expectations and their long-term product growth needs and profitability. A practical benefit of Recosilk embroidery threads is its superb long-lasting vibrance, which makes it especially ideal for custom embroidery applications. Recosilk embroidery threads are sold at a better price compared to conventional commonly used embroidery threads.
The product is available to customers with a colour range of 400 shades.
We keep a huge stock of Reco Embroidery Silk to satisfy any small and large quantity orders from our valuable customers at market leading prices all over the globe.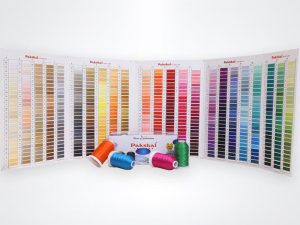 Reco Silk Embroidery Thread Specifications
Usage/Application: Embroidery of Dress Materials, Sarees, Curtains, Etc.
Size/Length: upto 1650 Meter per Cone
Pakshal Threads is one of the prime Thread Manufacturer in India, which manufactures high-quality Reco Silk Embroidery threads to ensure you get the best in the market.
It is an innovative product with similar quality as natural fibers such as viscose and has a top-notch softness that gives a luxury look to the work. They are easily dye-able in brilliant colors which enables us to provide a wide range of shades to suit customers' requirements. Just like natural fibers, it offers a soft sheen to enhance the overall look and are designed to meet the customers' needs and expectations to enhance their product's quality.
Reco Silk has long-lasting vibrance suitable for customized embroidery applications. It maintains a soft hand-feel to keep a balance between embroidery and fabric. Multi-directional embroidery without looping due to its sheen and softness is another added benefit of this thread. It causes the least wear and tear to the equipment as it is the least abrasive to the embroidery machine and is safe for washing and dry-cleaning. Industrial laundering can also be done on these threads. They can also tolerate harsh chemicals and are bleach resistant. Reco Silk provides excellent luster and are becoming the primary choice of embroidery thread users.
Pakshal Reco Silk Embroidery Threads are known for their excellent quality and durability. Our threads guarantee premium quality, colorfast features, and extraordinary dyeing properties. Our threads are available in stock in a wide range of 400 shades and are the perfect choice for hand embroidery of dress material, sarees, curtains, etc.
We are ISO 9001:2015 Certified and Leading Suppliers and Exporters of Reco Silk Embroidery Thread in various countries such as UAE, Oman, Qatar, Saudi Arabia, Bangladesh, Egypt, South Africa, Turkey, Spain, Bahrain, Yemen, Vietnam, Australia, Canada, Malaysia, UK, Germany, Sri Lanka, Nigeria, China, Thailand, USA, etc.