Core Spun Polyester Embroidery Thread
Pakshal Threads is one of the oldest manufacturer of Core Spun Polyester Embroidery thread engaged in the industry since 2006.
Possessing high durability, these threads are an excellent choice for embroidering blanks and
garments which are subject to heavy routine use. They are tear-resistant and chlorine, high water temperature, or bleach do not affect their quality. It retains its vibrancy even in heavy industrial conditions.
The product is available to customers with a colour range of 400+ shades.
In a multi-head environment, thread breaks can prove to be costly. With our threads, you will
experience much lesser thread breaks. Being easy to run on commercial embroidery machines, many industrialists exclusively use spun polyester threads. It is a suitable choice for high-speed embroidery machines. They are durable and can take the abuse. It has excellent tensile strength and provides a smooth lint-free texture.
We keep a huge stock of Spun Polyester Embroidery Thread to satisfy any small and large quantity orders from our valuable customers at market leading prices all over the globe.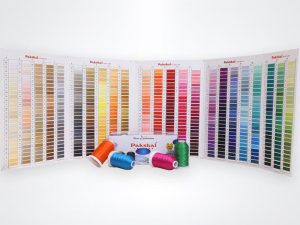 Spun Polyester Thread Specifications
Usage/Application: Embroidery of Logos, Dress Materials, Etc.
Size/Length: upto 1800 Meter per Cone
Pakshal Thread is one of the prime Thread Manufacturers, in India which manufactures high-quality Spun Polyester Embroidery Threads to ensure you get the best in the market.
Spun Threads are a perfect choice for quilting on both a home sewing machine and a long arm quilting machine for smooth sewing. Polyester threads provide a subtle sheen that gives your embroidery a professional look and feel.
Pakshal Spun Polyester Embroidery Threads are an ideal choice for general embroidery, especially for outdoor clothing or children's garments. It provides an excellent finish in embroidery for logos, dress materials, uniforms, etc. We provide a wide range of bright and vivid colors that withstand numerous washing cycles. They also stand with heavy laundering.
We are ISO 9001:2015 Certified and Leading Suppliers and Exporters of Spun Polyester Embroidery Thread in various countries such as UAE, Oman, Qatar, Saudi Arabia, Bangladesh, Egypt, South Africa, Turkey, Spain, Bahrain, Yemen, Vietnam, Australia, Canada, Malaysia, UK, Germany, Sri Lanka, Nigeria, China, Thailand, USA, etc.