Spun Polyester Sewing Thread
Pakshal Threads is one of the oldest manufacturer of Spun Polyester Sewing thread engaged in the industry since 2006.
Made from super high tenacity polyester fiber. It is superior leading to increased seam strength. It has a superior low friction lubrication leading to excellent useability and is available in various ranges to suit every garment embroidery application. It is used in making logos and embroidery of dress materials.
The product is available to customers with a colour range of 400+ shades.
We keep a huge stock of Spun Polyester Sewing thread to satisfy any small and large quantity orders from our valuable customers at market leading prices all over the globe.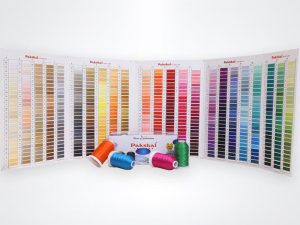 Spun Polyester Thread Specifications
Usage/Application: Embroidery of Dress Materials, Sarees, Curtains, Etc.
Size/Length: upto 1650 Meter per Cone
Pakshal Threads is a pioneer in manufacturing Spun Polyester Threads. Our aim is to provide the best product without compromising on quality at the best price.
Shorter lengths of polyester fibers are spun or twisted together to make Spun threads of the desired size. This process is similar to the process by which cotton threads are made. Spun Polyester looks like cotton thread but has more elasticity. The cost to produce them is usually low.
They are perfect for serging and fine sewing because they are lightweight and strong and moreover, provides a smooth finish with outstanding sewability. It is a perfect choice for both knit and woven fabrics. It is suitable for serging and overlock machines because they are lightweight, soft, and have low lint. These threads go well with garments that need a soft, fuzzy, cotton-like look. It serves these needs without having to worry about high costs. They have a cotton-like look, sewability, and feel and is widely used for general industrial sewing purposes. Being highly durable,they are not affected in washing or dry-cleaning. They are also highly abrasion-resistant.
Pakshal Spun Polyester Sewing Thread is an excellent choice for garment sewing, dressmaking, and general stitching. They can be used in apparel, bedding, filters, awnings, patio furniture, and many other applications.
We are ISO 9001:2015 Certified and leading Suppliers and Exporters of Spun Polyester Sewing Thread in various countries such as UAE, Oman, Qatar, Saudi Arabia, Bangladesh, Egypt, South Africa, Turkey, Spain, Bahrain, Yemen, Vietnam, Australia, Canada, Malaysia, UK, Germany, Sri Lanka, Nigeria, China, Thailand, USA, etc.