Embroidery & Sewing Thread

– Manufacturer, Supplier, Wholesaler & Exporter
Pakshal Threads– The Epitome of Superior Thread Quality in Textile Manufacturing
Clothes are an essential part of human life. They protect us from extreme weather conditions and offer us the opportunity to live a life with dignity. As clothes are made in factories, textile companies need superior quality, durable threads to manufacture high-quality fabrics, and that is what Pakshal Threads is world-famous for.
Pakshal Threads was founded in 2006 with the sheer vision of producing top-quality threads to offer to the textile companies at the right price. Our pricing model is competitive and offers industry-level rates.
As threads are an integral part of any clothing item and determine the cloth's lifespan, it's essential to choose the right threads to manufacture clothes. Pakshal Threads are world-renowned for their industry-grade threads designed to fulfil modern textile manufacturers' needs.
Our superior quality threads are our identity. Here are some of the categories of threads that have put Pakshal on the global map.
Trilobal Polyester Embroidery Threads
Reco Silk Embroidery Threads
Core Spun Polyester Embroidery Thread
Spun Polyester Embroidery Thread
Acrylic Threads
Kallash Poly 3 Ply Spun Polyester Sewing Threads
Kesar Poly 2 Ply Spun Polyester Threads
And many other superior-quality threads.
The superior quality of Pakshal Threads isn't a coincidence. It took several years of detailed research and development to manufacturing industry-quality threads that offer higher fibre strength, durability, colour fastness, and tenacity. We not only keep our existing inventories stacked, but we also get thrilled to develop new products based on the demands of our clients. Our years of experience in function in the manufacturing and wholesale market allow us to produce the best quality sewing threads, embroidery threads, and polyester threads that showcase us in the Top 10 thread manufacturer companies in India.
We are ISO 9001:2015 Certified and Leading Wholesaler, Supplier and Exporter of Threads in various countries such as UAE, Oman, Qatar, Saudi Arabia, Bangladesh, Egypt, South Africa, Turkey, Spain, Bahrain, Yemen, Vietnam, Australia, Canada, Malaysia, UK, Germany, Sri Lanka, Nigeria, China, Thailand, USA, etc.
Sewing Thread
Sewing threads are special types of yarns designed to pass through a sewing machine quickly. The basic function of a thread is to deliver esthetics and performance in stitches and seams. Our sewing threads are long enough to withstand the abrasion and needle heat produced during sewing, garment finishing, stretching and recovery during wear. Seam strength, abrasion resistance, elasticity, chemical tolerance, flammability, colour fastness make our sewing threads high-performance and highly durable. Sewing threads are available in two variants: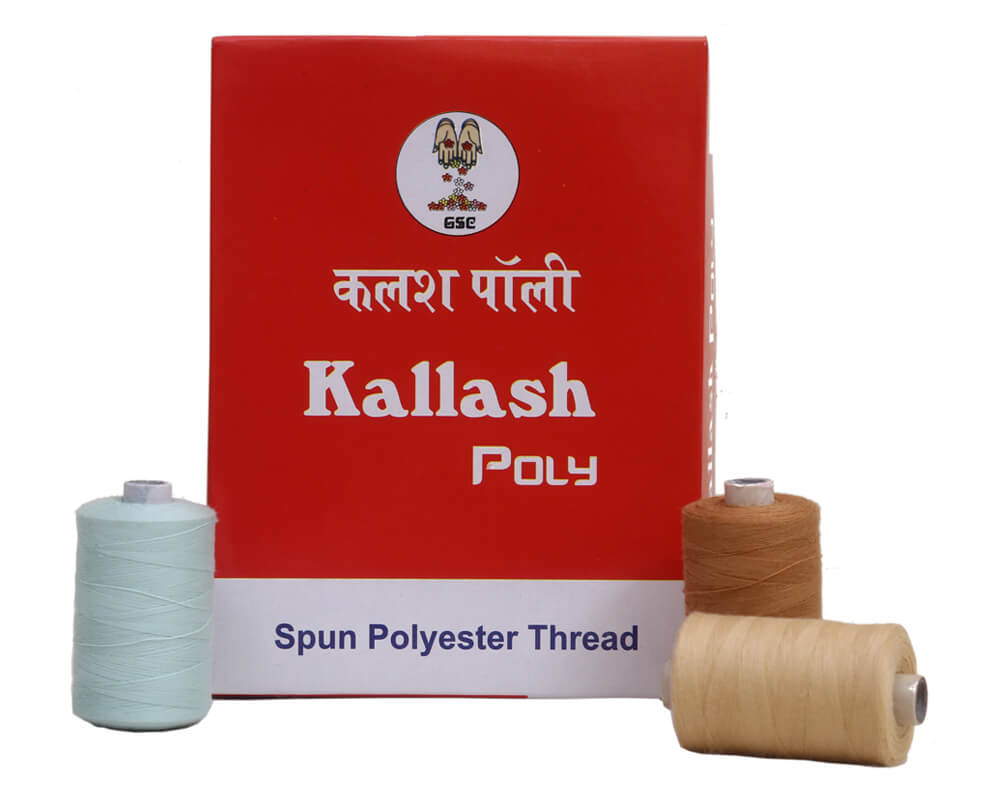 Kallash Poly Thread
Kallash poly are 3 ply spun polyester sewing threads that are available in the 80s, 25s, and 20s. The product is available to the customers with a colour range of 400 shades. Kallash poly is used for stitching Shirts, Trousers, Denim etc.
Kesar Poly Thread
Kesar poly are 2 ply spun polyester threads that are available in the 50s, 60s, and 70s. The product is available to the customers with a colour range of 400 shades. Kesar poly is used for stitching all types of fabrics.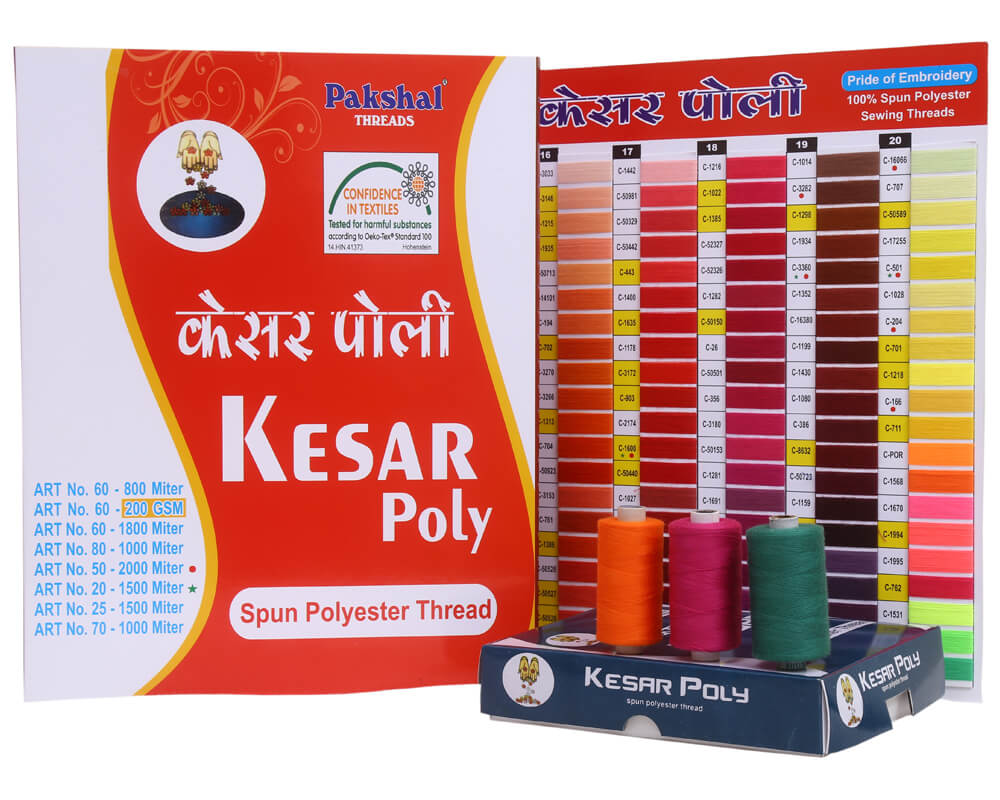 What sets us apart from the Competition?
This is what sets us apart from our competition-
Oeko-Tex standard 100 certified products
Safe products that do not contain harmful substances
Strict quality checks to ensure the highest quality
Competitive prices that exhibit the industry-grade quality
35 years of cumulative experience in the textile manufacturing industry
A team of highly qualified and trained textile experts
Top clients across India and overseas
"Our ability to embrace change has put us ahead in the race. "
Businesses are built by people for people. That's why we believe in creating interpersonal business relationships beyond conventional business partnerships. We believe in our traditional values and put our customers' needs before anything else. For us, customer satisfaction ranks first on the list. That's why we keep improving to match the demand of an evolving market.
We trust our advanced machinery that produces top notch threads. Our High-Speed Winder, developed by SMEW company, allows softening and fining the yarn while maintaining the quality standards. We do not just stop at producing high-quality threads. We ensure the products reach our clients in the best shape. That's why our Y-cone packaging machine automates and controls the packaging process. All these things indicate that we are always open to embracing change and fearless in our pursuit of greatness.
The global textile manufacturing industry was valued at $993.6 billion in 2021, and it's growing with an annual growth rate (CAGR) of 4.0%. Such promising figures also indicate the cutthroat competition of textile manufacturers. We strive to offer high researched and top quality thread to our textile manufacturing partners that ensure world-class fabric quality. Our threads are trusted by leading distributors, suppliers, and wholesalers who can vouch for our top quality and relay the same quality to their clients.
Top Industries that use Pakshal Threads
Our high-quality polyester, embroidery and sewing threads offer superior lustre and durability, allowing the thread to travel smoothly through the fabric without much friction. It ensures top-notch sewing quality with perfect seams. That's why our threads are used in the production of –
Embroidery for personal branding and merchandising
Beddings and furnishing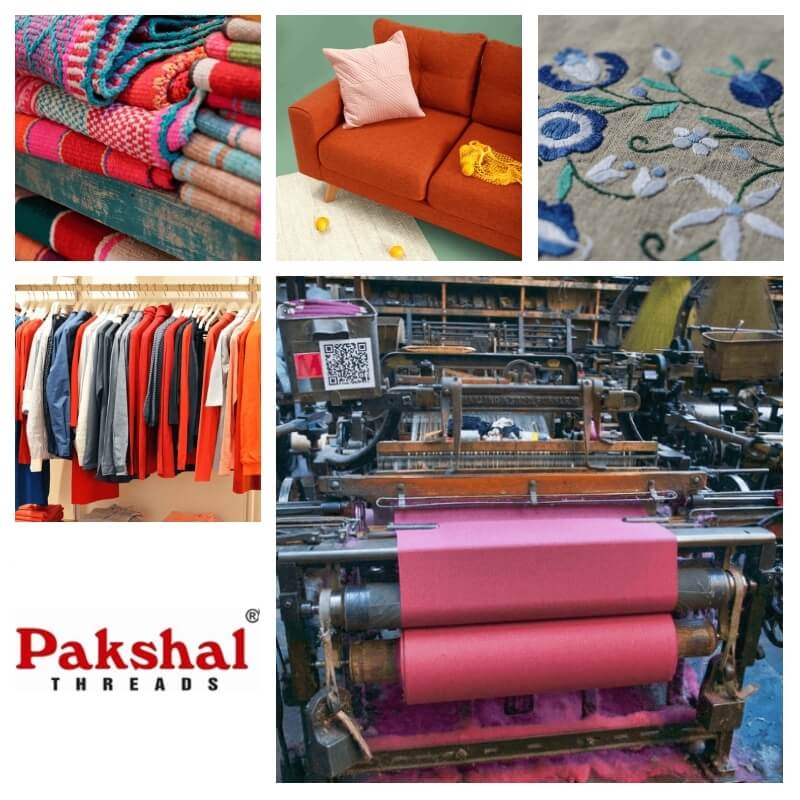 Why Partner With Pakshal Threads?
Our founder's years of experience working in the textile industry and dealing with suppliers, wholesalers, distributors, and stockists help us deliver a seamless purchase experience for our buyers. If you are a fabric manufacturer, wholesaler, distributor, or supplier, here are some reasons why you should partner with us.
24/7 Support
We offer 24/7 support to clients and help them through problems related to products and delivery. Our friendly and well-trained support team is always available through call or chat to help you find the right solution to your problems.
Competitive Prices
Our pricing model is intricately designed to ensure the right balance between market demand and superior quality. When you purchase threads from us, you can be assured of the highest quality.
Vast Network of industry leaders
The benefits of our strong network of various stakeholders in the textile manufacturing industry are extended to our clients. We are connected with top industry leaders and decision-makers who offer numerous business opportunities to the peers in our elite network.
Higher customer satisfaction
We strive to offer a smooth purchase experience to our clients. We maintain our quality of product and customer service and are always on our toes to help our clients.
If you are a Textile Manufacturer, Supplier, Wholesaler, Stockist or Importer you can put forward your inquiries and requirements for superior quality polyester, embroidery, and sewing threads by contacting us at: