Trilobal Polyester Embroidery Thread
Pakshal Threads is one of the oldest manufacturer of Trilobal Polyester Thread engaged in the industry since 2006.
Trilobal polyester threads have superior luster, durability and smooth operation at the fastest speed machines, making them a common option with customers searching for consistency and durability. Trilobal polyester embroidery thread enables you to create beautiful, attractive clothing logos and decorative seams that are subject to wear and tear or frequent washing. It has excellent lustre and superior resistance to abrasion for demanding end-use applications.
The product is available to customers with a color range of 750+ shades.
We keep a huge stock of Trilobal Polyester Thread to satisfy any small and large quantity orders from our valuable customers at market leading prices all over the globe.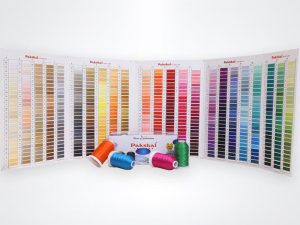 Trilobal Polyester Thread Specifications
Usage/Application: Embroidery of Sarees, Jeans, T-Shirt, Logos, Curtains
Size/Length: upto 2000 Meter per Cone
Pakshal Threads is one of the prime Thread Manufacturers in India, which manufactures high-quality trilobal polyester threads to ensure you get the best in the market.
Trilobal is a cross-section shape with three distinct sides (tri = three and lobal = sides). This shape is beneficial for optical reflective properties and is used in textile fibers. Trilobal polyester embroidery yarn offers the same excellent versatility and durability as rayon at a more reasonable price. Trilobal polyester is a multiple filament, twisted, high-sheen continuous fiber thread.
It has the aloofness of polyester to moisture and is suitable for continuous production due to its strength and knotless texture. These threads are made from high tenacity trilobal polyester yarn which enables them to work with every brand of embroidery machine. Magnifico, Fantastico, Nature Colors, Living Colors, Super Brights, and Art Studio Colors threads are made up of trilobal polyester fibers. Silk is a natural trilobal fiber. Trilobal shape assists in distorting the hand and boosting the luster. Luster adds aesthetic values to fabrics, contributes to their attractiveness. Trilobal cross-section helps alter the texture and several physical attributes such as strength and static properties, in addition to providing brightness to the fibers.
Trilobal Polyester Embroidery Thread is suitable for multithread computerized machines requiring high speed and strength threads. It can be used in both domestic and commercial machines. Trilobal polyester embroidery yarn is the first choice of all garment manufacturers where the embroidery is involved, be it hand/machines or even multi-head computerized embroidery machines. It has the bright appearance of rayon or silk with the advantages of polyester fiber.
Triangular-shaped fibers reflect more light and provide that beautiful shine to textiles. Over the years we have found that Polyester embroidery thread has proven to be the most successful running embroidery thread. These Trilobal Polyester Embroidery Threads are suitable for sportswear, jeans, and badges and also for stone wash items.
We are ISO 9001:2015 Certified and Leading Suppliers and Exporters of Trilobal Polyester Embroidery Thread in various countries such as UAE, Oman, Qatar, Saudi Arabia, Bangladesh, Egypt, South Africa, Turkey, Spain, Bahrain, Yemen, Vietnam, Australia, Canada, Malaysia, UK, Germany, Sri Lanka, Nigeria, China, Thailand, USA, etc.